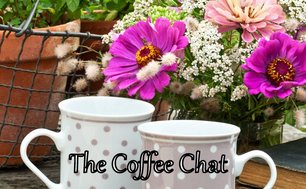 Welcome to this week's Coffee Chat!

We're talking about books and writing with author Micki Browning, who brought her mystery novel, Adrift.
Before we get started, what may I get you to drink, Micki?

MB: I start my morning with tea, but when I'm ready to settle down at the computer, I often transition to coffee. My perfect cup is a dark roast, freshly ground, and prepared in a French press. A splash of cream and I'm ready to tackle the words!

Ally: Since I assume you've already had your tea, I'll have that coffee ready in a second--just time enough for you to introduce yourself to readers.

---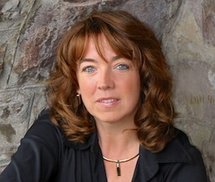 About the Author:

Award-winning author Micki Browning worked in municipal law enforcement for more than two decades and is an FBI National Academy graduate. She retired as a division commander – wonderful fodder for her current career as a full-time writer.

Her mystery, Adrift, set in the Florida Keys, won the 2015 Daphne du Maurier Award for Excellence and the Royal Palm Literary Award for best unpublished mystery and unpublished book of the year. It was released in January 2017 by Alibi- Random House.

Micki also writes short stories and non-fiction. Her work has appeared in dive magazines, anthologies, mystery magazines and textbooks.

Micki resides in Southern Florida with her partner in crime and a vast array of scuba equipment.

Something unusual that isn't in your regular bio: "I play the Celtic harp, am a wicked-good shot with a traditional longbow, and read Geoffrey Chaucer's The Canterbury Tales in Middle English as part of my Medieval Studies degree."Contacts Links:

Learn more at www.MickiBrowning.com
Like her at Facebook.com/MickiBrowningAuthor
Or follow her @MickiBrowning
---
INTERVIEW:

Ally: Tell us about the book you're featuring today.

MB: Adrift is a traditional mystery that has a thread of paranormal possibility woven throughout. There is a kiss of romance, but it mostly plays off the page.

Ally: What was your journey to publication, including bumps and missteps?

MB: I published short stories and articles before I tackled a novel. During my career in law enforcement, I was the department's Public Information Officer and as such, I wrote press releases, a monthly newspaper column, and was frequently interviewed regarding breaking news stories and special events. In hindsight, that was a lot easier than shepherding a novel to publication.

I'm a firm believer in entering legitimate contests. I had written two novels before I wrote Adrift. The first one will never see the light of day (a very good thing). My second manuscript won an award and generated some very motivational comments. I entered Adrift in the Daphne du Maurier Award of Excellence for Unpublished Mainstream Mystery/Suspense and won first place. My category was judged by an agent who now represents me--so although I had queried, I connected with my agent through a contest.

Ally: Let's talk a little about the writing process. How do you choose and name your characters?

MB: I love naming characters! All my main characters possess names that either have a deeper meaning or that struck me as the only possibility for that character. The origin of Mer's nickname is revealed in Adrift, Amber Green is colorblind, Selkie derives from an Irish Legend—and his last name means lover of horses. Mer's last name is horse in Italian. Coincidence? Not a chance.

Ally: Does your real life show up in your writing? In what ways?

MB: The extensive training I received throughout my law enforcement career lends authenticity to my writing, regardless of whether I'm writing from the perspective of an amateur sleuth, a police officer, or a crime victim. Aspects of my life show up in my writing: I love to scuba dive, and I've lived in the Florida Keys for several years. That said. I don't write true crime, and I'm always researching something. It's one of the reasons I love to write. I'm constantly learning.

Ally: What is your next writing project? Anticipated release date?

MB: My second Mer Cavallo Mystery, Beached, is finished!
Marine scientist Meredith Cavallo dreams of a laid-back life as a divemaster in the Florida Keys, but she's managed to become a suspect in a criminal investigation. Twice.
On a recent dive, Mer finds a large, plastic-wrapped bundle floating in the waves. By pulling it onboard, she lands in the middle of a storm of historical intrigue involving an obscure legend, an 18th century shipwreck, and a modern pirate who wants to claim the booty first.
Now, with the help of her captain and the owner of the dive shop, she must find a way to evade the smuggler who wants her dead, and return to something more valuable than gold—a normal life.

It will be released in 2018.

Ally: Now on a more personal level. If you could have a supernatural power, what would it be and why?

MB: Oh, I wish I could banish distractions. Ever see the film Up? Yup that's m--Squirrel!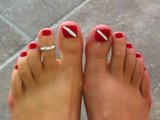 Ally: And a few quick answer questions...

a. manicure or pedicure? Definitely pedicure. See photo and next question…

b. high heels or sneakers? In Florida, there is only one answer—Flip flops!
c. hiking or sunbathing: Hiking, which really makes me miss living in Colorado.
d. favorite quote: Leap and the net will appear ~ John Burroughs
e. hobbies? Diving—(which also doubles as my favorite "research").

Ally: Thanks for joining us today, Micki. Let's leave readers with a little information about your mystery novel, Adrift.
---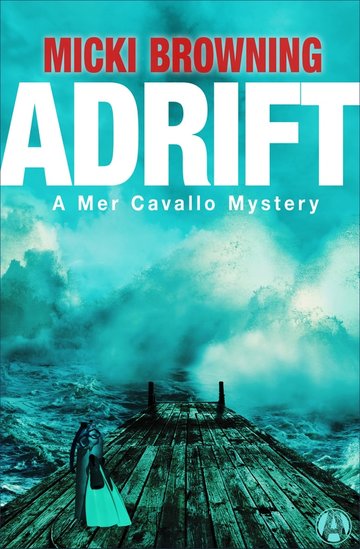 Adrift (A Mer Cavallo Mystery)
Blurb:

Marine biologist–turned-divemaster Meredith Cavallo stands accused of a chilling crime after a dive gone wrong. But do the murky circumstances point to an accident, a murder, or a supernatural encounter?

Mer thought adjusting to a laid-back life in the Florida Keys would be a breeze. But when she rescues a floundering diver who claims to have seen a ghost, she's caught in a storm of intrigue. News of the encounter explodes on social media, attracting a team of ghost hunters who want to capture proof that a greenish ghoul haunts Key Largo's famed USS Spiegel Grove shipwreck.

Meredith knows the wreck inside and out, and agrees to act as their safety diver. When Ishmael, the charismatic leader of the group, vanishes during a midnight dive, everyone except Mer is convinced the ghost has claimed another victim. Topside, the tenacious detective in charge of the investigation finds Mer's involvement in both incidents suspicious, and her enigmatic neighbor resurrects ghosts from her past.

Determined to find a rational explanation, Mer approaches Ishmael's disappearance as any scientist would—by asking questions, gathering data, and deducing the truth. But the victim's life is as shrouded in mystery as his disappearance. Still, something happened under the water and before long, she's in over her head. When someone tries to kill her, she knows the truth is about to surface. Maybe dead men do tell tales.

Buy Links:

Publisher: www.penguinrandomhouse.com/books/546962/adrift-by-micki-browning/9780425286418/
Amazon: https://www.amazon.com/Adrift-Cavallo-Mystery-Micki-Browning-ebook/dp/B01CBLUS7A
---