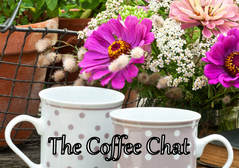 Good Morning, Booklovers!

Welcome to another Wednesday Coffee Chat! Our guest this week is mystery author Mabry Hall, featuring her book, An Engaging End (An 18 Karat Cold Mystery).
Thanks for stopping by, Mabry. How do you take your coffee?

MH: I like it ridiculously strong, with hot milk and one half pack of raw sugar. At least one cup must be consumed before I can say any more than "good morning."

Ally: You should feel right at home here! Please introduce yourself to readers while I pour.

---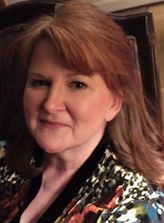 Bio:

I grew up in Mississippi, where I spent every spare minute at my grandparents' farm. I draw on those years when I write about rural and small-town life. I lived in Houston in my twenties, but was very happy to move to Louisiana after my first child was born. Texas has its charms, but it definitely isn't the South.

I'd have loved to get a degree in English, but bowed to family pressure and went to nursing school instead. I became a nurse anesthetist, which allowed me to work part-time while my boys were growing up.

Something unique that isn't in my bio? I'm a passably good seamstress, plant my garden to attract hummingbirds, and can make a biscuit that tastes like my grandmother's. I make a beautiful French macaron and a delicious blackberry cobbler, but my boys like my chocolate cake best.

Author Contact Links:https://www.facebook.com/18KaratCold/
www.mabryhall.com

Follow my Pinterest boards to see the jewelry that inspires my stories
https://www.pinterest.com/mabryhall/
---
INTERVIEW:Ally: Tell us what kind of books you write?MH
:
I think of my genre as cozy with an edge. I want my readers to laugh, because there are enough poopy things going on in the world today. You're more likely to hear me utter a curse word than to read one I've written. Annalee has a romantic interest, but my books are definitely PG-13. (I recently had a book club tell me they want more romance!)Ally: How do you choose and name your characters?

MH: Most of the characters in my books (unless they're villains), have names from my family tree. My roots in North America go back to the early 1600s, and there are a lot of names to choose from. I have two sons, and this allows me to use all the names I thought about for them and for the girl I never had. The only supernatural character is a ghost goat that lived on the book's Goat Hill Farm in the late 1800s. I named him Repentance, after my real-life seventh great-grandfather. I think it's a fabulous name, but one could hardly saddle a child with it now.

Ally: Did someone or something inspire you to write? If so, what effect did it have and why?

MH: Like most authors, I've spent my life reading, but my book choices change according to what's going on in my life and how much mental energy I have at the time. I picked up my first romance novel when the kids were in elementary school and I was working as a nurse anesthetist. It was like someone had handed me a big bag of salty, buttery popcorn. I became addicted to the quick read that always had a happy ending. I wrote three of them, one medieval and two contemporary, and progressed to receiving lovely rejection letters! They were complimentary of my writing skills and style, but each said I essentially had too much plot.
I put the writing aside, but decided to give it another try a couple of years ago. I turned my effort to the mystery genre, where I could plot to my heart's content.

Ally: Do you have a writer's cave? If not, where do you do most of your writing?

MH: I can write on a laptop or a Chromebook since I use Google Docs as my program. I have a favorite chair in the den that my husband calls my nest. It's surrounded by paper I've scribbled notes on and books I use for reference. If someone comes to visit, I make a frantic dash to dump everything in my closet. In the winter when it's dark and gloomy I move to whichever room looks most cheerful, but often wind up back in my favorite chair with the fireplace going.
We live on a lake in northern Louisiana and have an enormous screened porch with swings and rocking chairs, so there are many occasions when I can work outside. Those are the best days.

Ally: Do you prefer to read standalones or series? Which do you prefer to write?

MH: I love to read series mysteries, because I like to get to know the characters and see them evolve as people. It's even better if there's someone obnoxious who gets knocked off a few books down the line. That's why I started the 18 Karat Cold mystery series. Annalee Wyatt, the protagonist, deals in antique jewelry and has recently moved to a small town. Between her job and her home, there is room for her to change and grow through several books.

Ally: What is your next writing project? Anticipated release date?

MH: Book number two in the series is due to be released in September, 2017. The title is A Regrettable Reunion (An 18 Karat Cold Mystery).

Ally: Let's try a few quick-answer, get-to-know-me questions:
a. an author (living or dead) you'd love to take to lunch: I'd love to take Charlaine Harris to lunch. She writes about my part of the country, and she has a unique imagination. She goes to dark places in her books, and her characters are multi-dimensional.
b. an item on your bucket list: I've carted my family all over the world, sometimes against their better judgement. I buy my clothes at Target and spend my money on travel. I would love to live in another country for several months, preferably one with fabulous food and wine!
c. favorite accessory: My favorite accessory has to be jewelry. I've collected antique jewelry for years, and firmly believe that more is more. Put on everything you want to wear; then add another piece.
d. Hiking or sunbathing? One look at my fair skin and freckles will answer that one. Hiking, with plenty of sunblock and a broad-brimmed hat.
e. book you're currently reading: I read a lot of non-fiction history. My current book is John Aubrey, My Own Life, by Ruth Scurr. He lived in the 1600s in England and is considered to be the first modern biographer. Queued up is a book on the exploration of the Louisiana territory, Jefferson's America, by Julie Fenster
Ally: Thanks for sharing coffee with me and answering all our questions. Before you go, please show us your book, An Engaging End.
---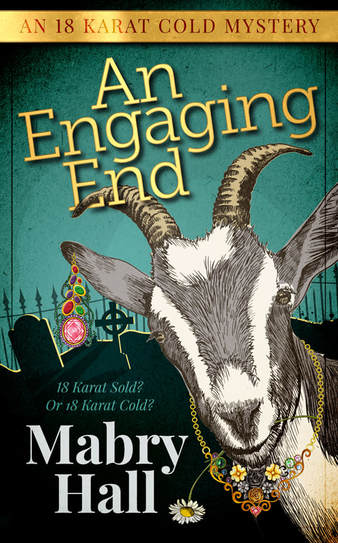 An Engaging End (An 18 Karat Cold Mystery) by Mabry Hall
Genre: cozy mystery
PG-13

18 Karat Sold? Or 18 Karat Cold? Antique jewelry dealer Annalee Wyatt recently moved from Houston to Goat Hill, her family's ancestral farm in Louisiana. Okay, admittedly she knows jack about farming and makes her living selling expensive baubles, but she's returned to her roots and wants everyone, including the citizens of nearby Berryville, to be as enthusiastic about it as she is. Her goal of acceptance gets a boost when the scion of an old family pays her big bucks for an engagement ring. When his intimidating mother invites her to attend the ceremony, she really feels like she's made it. Unfortunately, "Happily ever after" turns into "Happy never again" when the young bride shockingly dies at the wedding reception.

Soon Annalee is dealing with a grieving, hostile groom and unpleasant accusations regarding her honesty. Though there seems to be no way to prove her integrity, Annalee can't afford to give up. With the help of her hunky cattle-rancher neighbor and the town book club, she sets out to solve the mystery that threatens her reputation. It comes as a nasty surprise to find that her life is in jeopardy, too!

Buy Link:

https://www.amazon.com/Engaging-End-Karat-Cold-Mysteries/dp/1536849057
---