Embers of Fire (Guardian Witch Legacy Book 1)
is nearly two weeks old, and I'm still excited to bring these characters back.
It's like meeting old friends.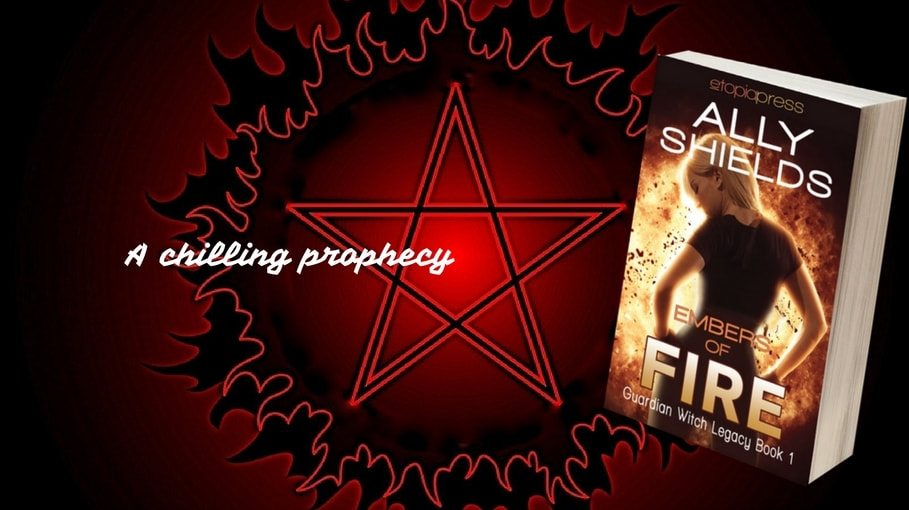 The situation in the De Luca household as the book opens...

Five years have passed since Eternal Fires (Guardian Witch #7) and the defeat of the O-Seven, the vampire elders who had ruled the vampire world for thousands of years
Three years have passed since Rayne's second birthday (detailed in the Eternal Fires Epilogue) and the discovery of The Star of Esielen prophecy.
The intervening period has been unique for Ari and Andreas, relatively trouble-free, and more family oriented than they had ever thought possible.
Domesticity has developed a certain appeal, and Ari is uncertain whether she wants to remain as Olde Town's guardian. The job has gotten rather predictable, and she has an apprentice eager to step in. Ari's time is more than full with raising their daughter.
While Andreas is still intrigued by the challenges of the fledgling vampire league, Marcus has taken over management of the supper club, and work has been completed on a new casino. Gabriel is ready to assume the primary management of it. Andreas's responsibilities would soon allow him to leave town with his family…permanently.

Ari and Andreas have had several discussions about moving to Tuscany. It seems like the time is right. As Rayne's powers develop, she is becoming a greater challenge and isolating her on his Italian estates is more appealing every day.
Then police dispatch calls, sending Ari to Olde Town Cemetery No. 1…


Embers of Fire opening scene excerpt:

A crisp breeze caught the last of the early morning fog and swirled it over the gravestones. The Olde Town cemetery slowly emerged from the mist, its silent memorial to the dead marred by an unusual amount of activity. A uniformed Riverdale cop completed a final loop of bright yellow tape around several stone vaults and two small crabapple trees. CS techs snapped photos and set out evidence markers as they processed the crime scene.

With a hot Styrofoam coffee cup in each hand, Arianna Calin bumped her jeans-clad hip against the iron entrance gate, knocking it open, and slipped inside, her footsteps crunching the brittle September leaves. When an eerie chill nudged her senses, she swept the scene with a sharp glance.

Nothing she hadn't expected. Not yet. Nothing bad enough to trigger her witch alarms. But then, it was a graveyard. The remnants of so many dead souls could mask a great deal.

She ducked under a high section of the bright tape and focused on the blond man in jeans and a dark gray sweatshirt crouched beside a still form. "ME's not here yet?" she asked.

Lt. Ryan Foster, her partner from the all-human Riverdale Police Department, looked up and stood, his blue eyes lighting on the cups in her hands. "On his way. One of those for me?"

A smile touched her lips, and she handed him one, withholding further comment until he'd taken his first jolt of caffeine. "Dispatch said it was a stabbing. Human female victim. Is the suspect one of mine?" As a supernatural cop and guardian for Riverdale's Olde Town district, Ari wouldn't be notified of an RDPD case unless the Otherworld was involved. Usually that meant vampires or werewolves—the predominant species in town—had run amok.

BookTrailer: https://youtu.be/-I-B_OHsN2E
---