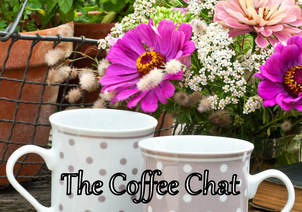 Happy Wednesday, Booklovers!

L.C. Hayden is this week's Coffee Chat guest author with her mystery/thriller novel, What Lies Beyond The Fence.
Welcome, LC! What may I get you to drink?

LC: I drink Coke and Diet Coke mixed together. This way, only half of me gets fat.

Ally: (chuckling) I think we can arrange that. Why don't you introduce yourself while I get our drinks?



---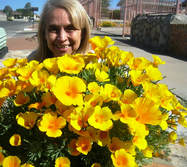 Bio:

Award winning author L. C. Hayden is the creator of the popular Harry Bronson and Aimee Brent mystery series and the standalone, Secrets of the Tunnels. Hayden is known in the mystery field for her edge of the seat suspense and her surprise endings. Her mysteries have hit the Kindle, the B&N, and the Pennsylvania Top Seller Lists. The books have been finalists for the Agatha and LCC Awards.

Her nonfiction angel/miracle series consists of spiritually uplifting books that leave the reader wanting more. Hayden's other works include children's picture books and other genres.

Besides being an accomplished author, Hayden is a popular speaker. She has done workshop and school presentations, has spoken to clubs and organizations, and was hired by several major cruise lines to speak while cruising all over the world. From October 2006 to October 2007, Hayden hosted Mystery Writers of America's only talk show, Murder Must Air.

Contact Links:
Facebook: please befriend me: https://www.facebook.com/lc.hayden.3
Please like my professional page: https://www.facebook.com/MysteriesbyHayden/
Website: https://lchayden.com
---
INTERVIEW:

Ally: I always ask authors to tell me something that isn't in their standard bio. Rather than a short answer, I understand you have a story to tell...

LC: I have an FBI record!

It all began before I was a full time author. At that time, I was a high school teacher. I was at my desk when over the intercom a message erupted: L. C. Hayden, go to the principal's office during your conference period.
I was a good teacher, so I didn't panic.
When I walked in, instead of the principal being there, a man, whom I had never seen, stood before me. He looked at me and said, "Are you L. C. Hayden?"
I nodded and he reached behind me and locked the door. He showed me his badge. "I'm Detective So and So. Please sit down." I did and he once again reached into his wallet, took out a card, and said, "You have the right to remain silent. Anything you say can and will be used against you in a court of law . . ."
As he read me my Miranda rights, I kept thinking was What's going on? I haven't done anything wrong. I don't even speed!
He then placed a paper on top of the table. "Recognize this?"
Of course, I did. When my first book, Who's Susan, was released, my author liaison told me that if I wanted people to buy my book, I would have to come up with a brilliant campaign. I thought and thought and came out with a brilliant idea.
I planned to send three separate batches of mail to local readers. The first batch wouldn't have a return address and the flyer inside the envelope would read: Do you know who Susan is? When people received this, they would hopefully start talking. Who's Susan? What's this about?
The second batch would be mailed a week later, again, with no return address. The flyer would read: Did you find out Who's Susan? Again, people would wonder about Susan.
The third batch, which would have a return address, would read: Introducing my new mystery Who's Susan?, then I'd invite them to my Barnes & Noble signing.
That's the way it was suppose to work. Here's how it really worked. I mailed the first batch, but instead of people talking about who Susan is, they called the police because of the antiabortion campaign they had just received. How they came to that conclusion, I have no idea.
When the police started to investigate, they discovered that I was a teacher at a rough school.
Because I'm basically a lazy person, I didn't mail the flyers from the post office that was two blocks away. Instead, I mailed them from my high school campus. That made it a federal offense, so they called the FBI who immediately knew it wasn't an antiabortion campaign. It was a new drug called Susan. They hired an undercover agent to go to the campus to investigate.
"What new drug?" the students asked.
When they realized they had made a mistake, they hired another undercover agent. This time they knew it wasn't a drug. It was a gun movement, code Susan.
Again, the students claimed, "What gun movement?"
In the meantime, I was in the principal's office getting my Miranda rights read.
When the agent found out that it was only my promotional efforts for my book, he rolled his eyes as he held my book in his hands. "It would have to be a mystery!

Ally: A great story! :) Now let's talk a little about writing. Describe your editing process, from first draft up to release.

LC: Call me a dingle dorf or old fashioned. But I still write my books in long hand and I use blue ink. Then I edit for grammar in red. I type that into my computer and as I go along, I proofread for content and characterization. I print that out and revise the manuscript one more time. Any changes, I mark with a red pen. I let the manuscript sit for a while. When I go back to it, I revise it one more time, this time using green ink. I add all of those changes to the computer and as I do, I revise the manuscript. It's now ready to go to beta readers. When I receive their comments, I make the changes as necessary. I revise one more time, then send it to my critiquers. I once again make any changes needed. I read the entire work one more time and make any changes that I feel I need to do. Then it's off to my editor—who will require some changes too. Sigh.

Ally: What is your next writing project? Anticipated release?

LC: I am currently compiling and writing stories about people who have had an angel or miracle experience. This one, as of yet untitled, will be the 4th in the angel/miracle series. Should be out late 2017 or early 2018. If readers have had such experiences, I'd love to hear from them.

Ally: What is your favorite social media?

LC: Most definitely Facebook. There, I ask my readers to help when I have a problem with the plot, I share my travel experiences with them and I love to hear their comments. That's basically the bottom line, I love to talk to them. I feel they're my extended family. If you're in Facebook and you're not my friend, please befriend me.

Ally: How do you spend your non-writing/non-editing time?

LC: I love to camp, travel, read, do arts and crafts. The only days I really take off from writing—no editing, no writing—are those that I spend with my grandkids. I love being with them. We play, we laugh, we sing. I also love going on dates with my husband of 47 years, and I love my dog.

Ally: Take a shot at these quick answer questions:
a. book you're currently reading: Joel Goldman's Deadlocked
b. an item on your bucket list: I want to sell thousands of copies of my books!
c. high heels or sneakers: Definitely sneakers, but I do love to dress up—and wear sneakers!
d. hiking or sunbathing: Hiking since I can sunbath while hiking!
e. Your pets: I love dogs. My current one is a basenji known as Honey. Super good dog—if only she'd eat!

Ally: I've enjoyed our visit, LC. I hope you'll come back again. Before you go, let's see your featured book, What Lies Beyond The Fence.
---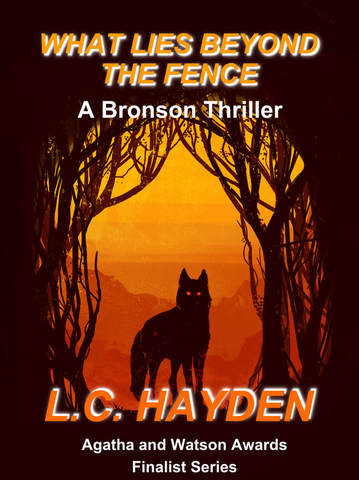 What Lies Beyond the Fence
The Bronson Thriller
Genre: mystery/thriller

Blurb:For Bronson, this was going to be an easy assignment. Find Roger and Norma, the teens that stole an important book and return it to its original owners. But when Bronson locates the book, Roger reveals the truth behind the book's existence—a truth so shocking that Bronson is forced to help them escape.

Then Ellen, his partner's ex, gets kidnapped and Bronson is forced to decide who he will save: Ellen or two stranded teenagers who depend on him for their survival.

Who will he choose? His decision will determine who lives—and who dies.

This action thriller is guaranteed to keep you glued to the edge of your seat with its many twists and turns. It is the fourth installment in the crime fiction series: first, Why Casey Had to Die, followed by When Death Intervenes, then When the Past Haunts You.What people are saying:
Bronson (is) a very likeable guy with his heart in the right place, which was one of the factors that made this an addictive read. This light but suspenseful mystery, is fast paced and will have the reader quickly turning the pages, especially with the plot twists the author has adroitly employed in her unpretentious, flowing prose. This is an ideal read for mystery fans who enjoy a straightforward mystery with little gore or violence. Highly recommended.

Buy Links:
http://tinyurl.com/LCHayden http://www.bookgorilla.com/author/B001JP9SMQ/l-c-hayden
---